Early this year, the Amsterdam City Council expressed a desire to address racism and discrimination in healthcare. The City of Amsterdam, in cooperation with Sigra, the regional partnership for care and welfare in North Holland, has therefore created a program on the subject. In this context, the conference "Together against discrimination in care and assistance" was organized on June 16 at Podium Mozaïek, an intercultural cultural house in Amsterdam.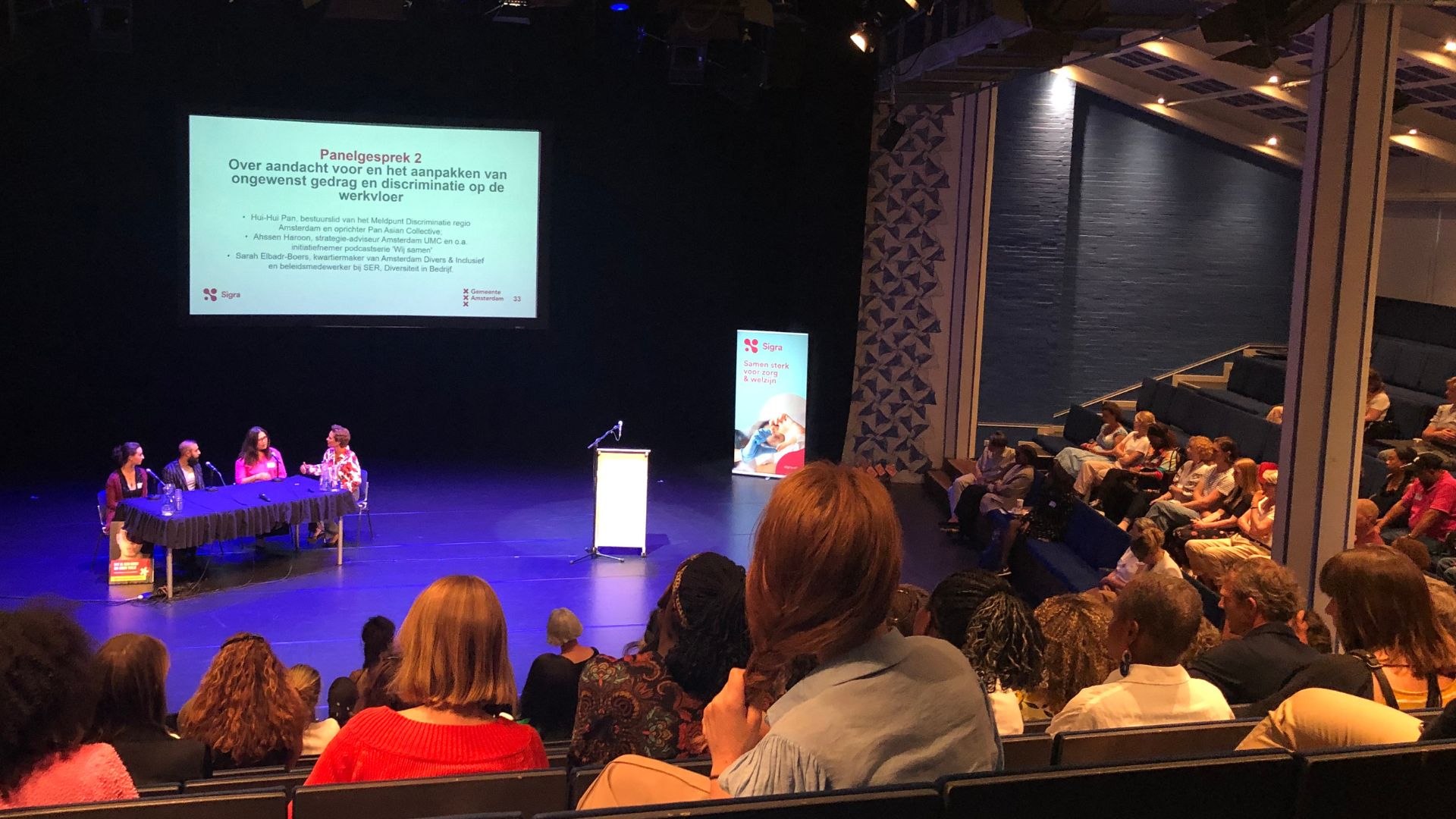 'I had a family doctor for more than twenty years who had never laid a finger on me. When he was away on vacation, his replacement soon found out that I was suffering from high blood pressure and immediately referred me to the hospital. What struck me was that these other doctors saw me as human, they just touched me. Then I was like, "Something is not right with my own doctor. After all, you start thinking there is something wrong with you. […] I almost don't go to my GP anymore, even though I should. But I don't have the confidence anymore.' – Henna Trustfull
In Het verhaal van Henna, featured on the YouTube channel of the national expertise center Pharos, Surinamese-born Henna Trustfull tells her story. It is a glaring example of the painful consequences of discrimination and racism in healthcare. According to the Inclusive Living Knowledge Platform (KIS), one in five health care providers has encountered racism and discrimination at some point. And figures from the Social and Cultural Planning Office show that of the Dutch who sought medical help or advice in 2018, four percent said they may have been discriminated against by the healthcare facility.
Pure necessity
Stories like Henna's were an inspiration for Sigra, network member of Amsterdam – Divers & Inclusive, to organize the conference Together Against Discrimination in Care and Assistance. Over 100 people attended, including many health and welfare professionals, HR advisors and city council members from the City of Amsterdam.
Organizing this event came out of sheer necessity, said Saskia Schalkwijk, director-director of this partnership of health and welfare organizations. 'Our mission is to provide the residents of Amsterdam with accessible and appropriate care and support. We also want to remain attractive as an employer. If we want to achieve this, we need to better connect with the background of our residents and professionals. I think this conference is a great start to that.'
Introducing the topic was Roshnie Kolste, senior advisor at Pharos. She gave the visitors tools, based on which to discuss in the breakout sessions. Kolste distinguished between four types of discrimination in the healthcare domain:
o Discrimination among health care providers. Then consider colleagues and supervisors.
o Discrimination from healthcare users toward healthcare providers.
o Discrimination among healthcare users, for example, among nursing home residents.
o Discrimination from healthcare providers to healthcare users.
According to Kolste, these types of discrimination interact with each other and define a general social norm. "For example, if colleagues allow prejudice among themselves, that can also affect how patients are treated," she says.
It is important to be aware of the position of the caregiver and that of the -customer. It is especially vulnerable because of the dependency relationship and makes it more difficult to raise discrimination. Kolste: "People look up to their counselor. There is coping: patients accept negative treatment for the sake of good care. She therefore advocates, among other things, person-centered care, with the caregiver paying extra attention to diversity and cultural factors.
Click this link to read more about Pharos' research.
Mutual trust
Project coordinator Hanife Güzel of Sensa Care told the first panel discussion of the afternoon that her team is already putting this person-centered work into practice. When registering a client, she considers not only their health status, but also special needs, such as preference for a caregiver of a particular gender or cultural background. According to Güzel, this creates more mutual trust and openness. 'To meet specific needs, you need diversity in your staff. If we get a client with a background unknown to me, I want to be able to get information from a colleague. Moreover, if you have diversity in your staff as an organization you are actually saying to your client that you accept people as they are.'
Her interlocutor Simone Goosen, initiator of the project Interpreters Back in Care, Please, agrees. 'I occasionally teach medical students, and there you see that student groups are also becoming more diverse. People are growing up with diversity these days. Fifty years ago I grew up in Bergen op Zoom and, sorry, there was almost no diversity there then. That's different now. If you give space to diversity and seek connections between people early on, I think things will naturally get better and better in healthcare as well.
Awareness
Hui-Hui Pan (Meldpunt Discriminatie Regio Amsterdam), Ahssen Haroon (Amsterdam UMC) and Sarah Elbadr-Boers (Amsterdam – Divers & Inclusief) spoke at the meeting about undesirable behavior and the importance of increasing diversity and inclusion in the workplace. That starts with a bit of awareness, Elbadr-Boers told me. 'A lot of companies think that undesirable behavior does not occur in them. But often management people have a blind spot for what is going on in the other organizational layers. We try to make this transparent by making a plan of action on diversity and inclusion with them.'
At Haroon's employer, diversity and inclusion became part of the company strategy. Haroon, strategy advisor at Amsterdam UMC: "The beauty of it is that it is a multi-year strategy. So you can fall back on it again and again, even when other issues take priority for a while. For example, diversity, inclusion and social safety remain topical issues for us.'
Safe
Finally, Pan emphasized how important it is for companies to pay attention to cultivating a safe environment in the workplace in their diversity and inclusion policies. 'You have to create the opportunity and space for employees to tell their stories. You have to listen to them carefully," Hui said. 'You don't break the culture in a company overnight. Talking to each other makes it easier to name that racism and discrimination occur within the organization. Often the discrimination is not even intentional. For example, people are not always aware that certain words hurt another person. If they do know that, they will choose their words better. It is not about naming who is doing it wrong, but much more about what we can learn from each other and how we can solve discrimination and racism within the organization together.'
Poem
The afternoon on June 16 was closed by poet Gershwin Bonevacia, former city poet of Amsterdam. He recited his poem Because We Are, which tied in with the afternoon's theme. Below is the entire text.
Because we are
How do you start the conversation?
What do you do against injustice?
Who remains silent?
Who gets bitter?
Being yourself is not an extra, but the only way we can convey
Who we deeply are.
To stay alive, we need the ticking of our watches
Exchange for the beating of our hearts.
Do we want to go to the next floor,
then we must take a seat deep inside and
slowly starting to get sweet.
Diversity is not an idea, but a body,
a shell, a roundabout way to more, a surrender,
The thread you want to follow back if you've gotten stuck,
If you no longer dare to go up, if you have very slowly grown vulnerable.
Not a moment, but the feeling akin to looking at an empty spot in the sky
because you know that someday light will burn there, the feeling akin to closing your eyes
but not being afraid of falling, just feeling everything rise within you,
not an image, not a passage, but a landscape flowered to the rhythm of the people and the arts.
How do you start the conversation?
What do you do against injustice?
Who remains silent?
Who gets bitter?
Let this not be a battle in which only the strongest survive,
but a composition, in which all people contribute a piece,
like instruments in an opera, or words in a poem.
Diversity must be protected, so rise up.
We are an infinite exposition,
a permanent exhibition dedicated
I cannot stress the importance more than simply being there.
We are a magic collection a necessary connection between care and wellness.
Not consisting of fixed waves, a system, or the position of the moon, but from the need for everyone who comes here to try to give something that you have to think about with each other.
How do you start the conversation?
What do you do against injustice?
Who remains silent?
Who gets bitter?